I had a few days off at the beginning of this month, so I decided to make good use of them by heading to Hiroshima. Three days is just enough time to explore the area leisurely. However, if you move at a fast pace, you can get Hiroshima done in just two.
For starters, I took the Willer Express overnight bus from Shinjuku to Hiroshima. Willer Express generally has decent prices, especially if you're within the first 10 people to book a trip. When I booked my ticket about a month in advance, it cost 6,000 yen. Whenever the exchange rate is good, I pay in USD using my Ally Bank debit card. Doing this allows me to save a few dollars as Ally doesn't charge fees. With the exchange rate at the time, the ticket cost $56.96. The bus ride was 12 hours and was fairly comfortable, though I'm not sure I would want to travel that far by bus again.
Day 1 – Hiroshima City Area
After arriving at Hiroshima Station at 8:50 AM, my first order of business was to head to the tourist center to gather information. I have a terrible habit of going places without a detailed itinerary, so this helps me sort my thoughts and find good deals.
For Day 1, I chose to travel the city of Hiroshima with a bus pass for the Maple Loop. You can board with your Japan Rail Pass or a JR West Rail Pass. If you don't have one of these, it's either 200 yen per ride or 400 yen for an all-day pass. The bus system has three different lines that run throughout the city.
My first stop of the day was the A-Bomb Dome.
The A-Bomb Dome one of many monuments in the Peace Memorial Park. While here, you can also see the Cenotaph for the A-Bomb Victims and the Flame of Peace. If you look through the Cenotaph, you'll notice it forms a straight line to the A-Bomb Dome. You can also see the Children's Peace Monument, the Peace Bell, and the A-Bomb Memorial Mound which houses the ashes of victims. I suggest looking at the Visit Hiroshima website here to read more about these monuments.
In addition to these monuments, the Hiroshima Peace Memorial Museum is located nearby. It is 200 yen to enter and was probably the most moving experience I had during my trip to Hiroshima. Another heavy museum visit is the Honkawa Elementary School Peace Museum. This school is located about a 5-minute walk away from the Peace Memorial Park. At the time of the blast, the school lost about 400 students and 10 teachers. The school has since been rebuilt, but there is a small section left of the old school on the campus that has been turned into a museum.  As it is part of a school, you do have to go to the front gate and speak to someone in the office if you want access to it. It's also worth noting that it isn't open on weekends or school holidays.
Following this, I hopped on the bus again and headed over to Hiroshima Castle. Entrance fee is 370 yen and views from the top deck were absolutely gorgeous. The inside gives information about the construction of the castle and why this area was chosen. It also shows different types of armor and weapons used during the time. When I went, there was an interesting exhibit on guns which I thought was worth checking out.
I ended my day here (around 4 pm) by finding some soupless tantanmen nearby before heading to my hostel in Nishi-Hiroshima. I stayed at the Guesthouse Carpe, which I booked through Booking.com here. It was 7,800 yen for the three nights and the room was a four-person female dormitory. If you want a convenient and clean place to lay your head for an affordable price, I would recommend here.
Day 2 – Itsukushima/Miyajima
Before heading over to Itsukushima/Miyajima, I would suggest checking out the times for high/low tide the night before. The area is beautiful regardless, but it will be the most picturesque at high tide.
My method of transportation for the day was streetcars!  The 1-Day Pass for the Hiroden Street Cars cost 840 yen and included unlimited rides on both the streetcars and the ferry to Miyajima. If you show the pass at the Miyajima Ropeway, you get a discount there as well. The pass can be bought on the streetcar as well which is convenient. I did think they were a little slow as far as transportation goes, but there are many styles so it is worth riding a few.
Once I arrived at Miyajima Station, I took a quick walk across the street to the ferry terminal. The boat ride was very short, only 15 minutes. Upon exiting, I made a right and followed that road straight to the floating torii gate. On my way there, a deer bumped my butt while trying to get inside my bookbag. He then went on to steal a riceball out of someone else's bag. While they pretty harmless, it is best to watch your stuff around the deer because they will try to eat anything, even paper.
After taking a picture of the gate, I skipped visiting Itsukushima Shrine right away because of the crowd. Instead, I headed through Momijidani Park to get a taste of nature while taking a lunch break. I then went straight to the Ropeway, which turned out to be a good move. When I arrived, I had to wait an hour for a ride but by the time I returned, the wait was over two hours.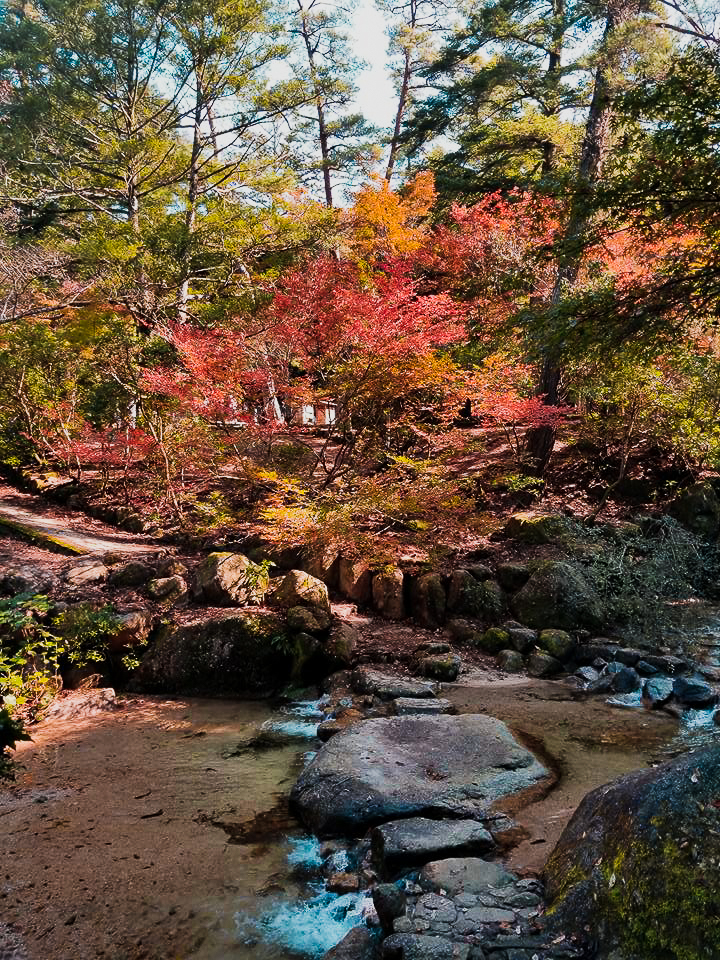 The Ropeway costs 1,350 yen roundtrip when you show your Hiroden Day Pass. Normal price is 1,800 yen. The way to the top is pretty uneventful but the views are beautiful. Upon reaching the second station you change to a bigger car to go to the last station. From the final station, you can visit the observatory, make couples Momiji Manju, or continue to hike to the top of Mt.Misen for even more great views.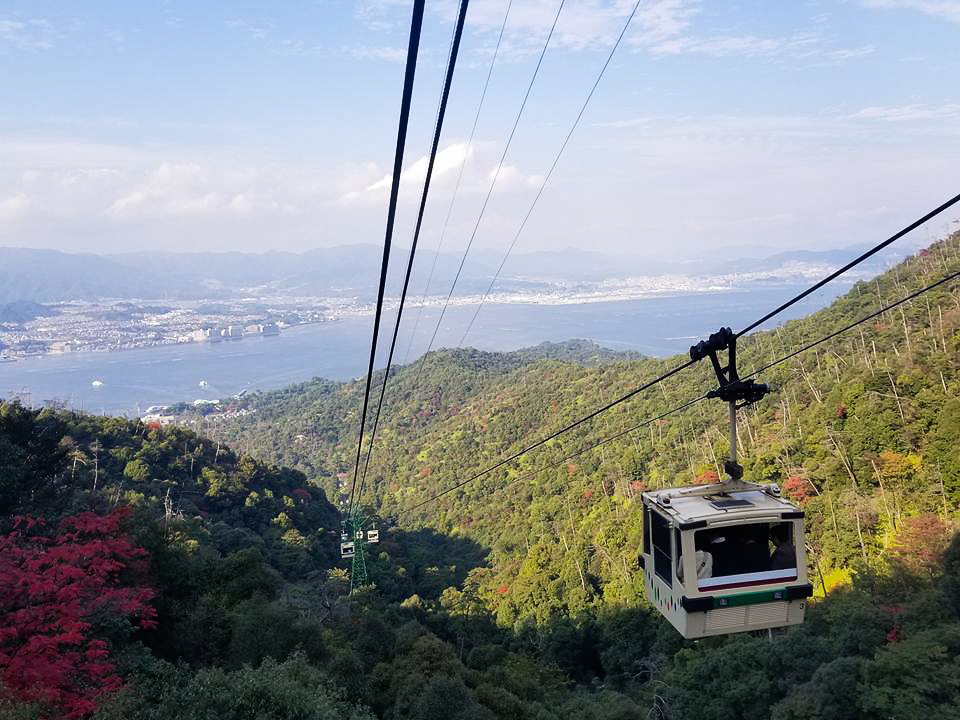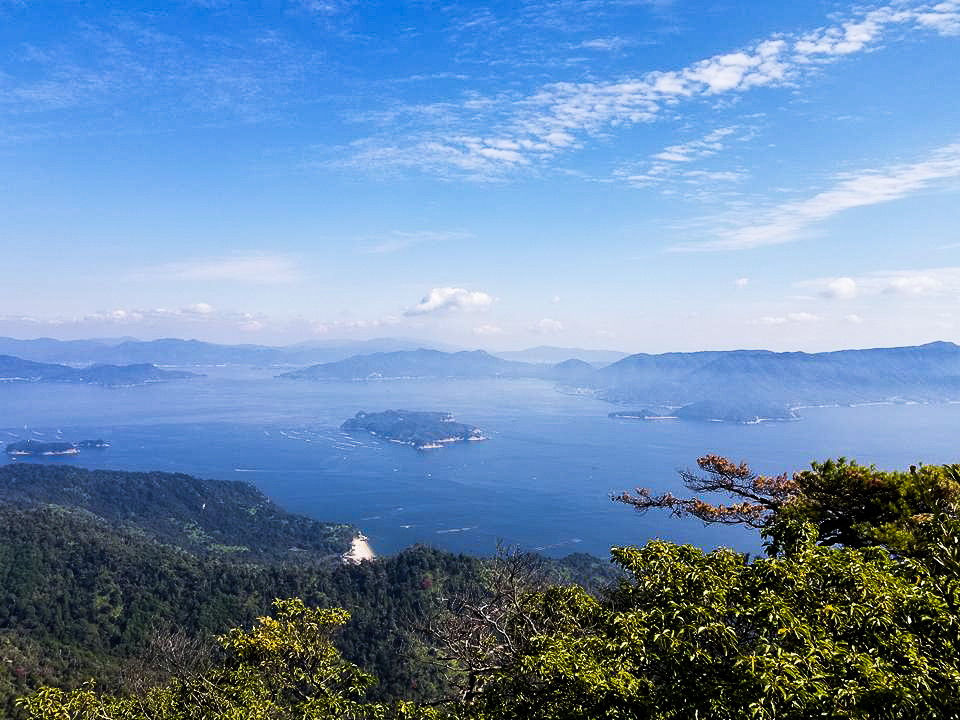 After reaching the bottom again, I visited the island's treasure hall for 300 yen before entering Itsukushima Shrine for (I believe) 300 yen. If you get here early or late enough in the day when there are no crowds, you can get some really amazing pictures.
After this, I walked through the town and bought some omiyage before heading back to Hiroshima City and ending my day.
Day 3 – Okunoshima/Bunny Island and the Poison Gas Museum
For my last day, I was on a mission to see one final WWII museum.
This time, I made my way to the train at 5:30 in the morning. I rode the Sanyo line to Mihara station before transferring to the Kure line to Tadanoumi Station. This took about 2.5 hours.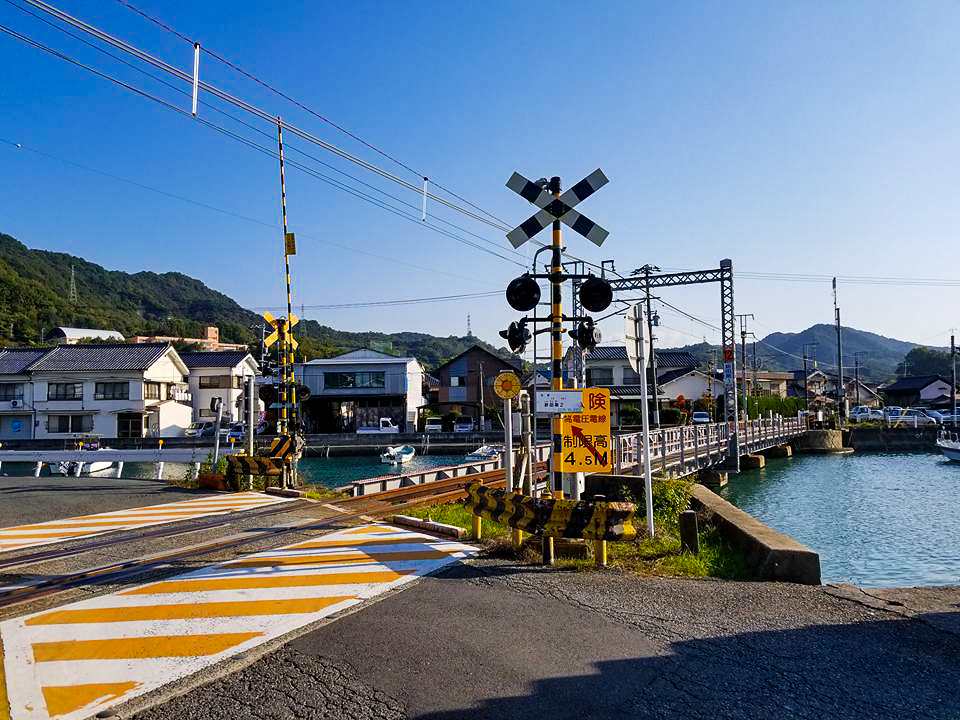 Once at Tadanoumi Station, I took a quick 5-minute walk over to the pier to buy my roundtrip ticket to the island for about 620 yen. At the same location, I also picked up a packet of rabbit food for 100 yen and a bento for 400 yen. After this, I boarded the boat for a 15-minute ride to the island.
On the island, there are various remains of a poison gas plant as well as a museum which costs 100 yen. It is small, but there are some English panels to read. I do wish there were more though. Some of the remains do take some hiking to reach, so wear comfortable shoes. I saw almost all of the places on the island but missed the lighthouse. The best part about hiking to some of the areas is that you will run into rabbits that aren't on the regular path, and are thus more interested in getting food from you. The island isn't very big so you could logically get around and see everything within 2-3 hours. After I finished seeing everything and picked up souvenirs from the shop in the hotel, I headed back to the ferry to make my way to Takehara.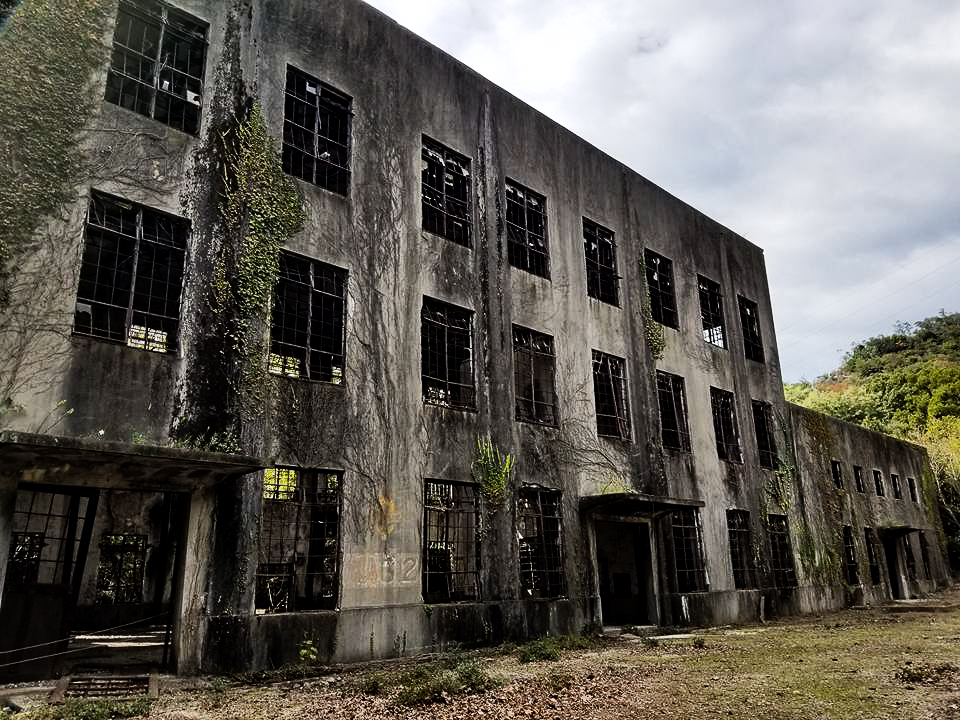 Takehara is supposed to be Hiroshima's "Little Kyoto" and it didn't disappoint. It was nice to walk through the old town and see the buildings. There are a few museums here and shops worth checking out. Once I finished, I hopped on the bus back to Hiroshima Station from Takehara Station for about 1,200 yen.  The ride was about 1.5 hours, so I used that time to take a nap.
Day 4 – Heading Home!
After checking out from my hostel, I made my way over to Hiroshima Station for my first ever Shinkansen ride. I used the smartEX app to purchase my Shinkansen ticket, which was convenient because it was in English and it let me link the purchase to my PASMO. This meant I didn't need to stop at the window to pick up my ticket. Since I purchased my ticket about 4 days in advance, I was able to get hayatoku (早得) tickets which cost 15,500 yen instead of the regular 18,880 yen for a reserved seat. I also paid with my American debit card again, so my ticket cost $137.62 at the time. Quite the deal.
The trip back only took about 4 hours as opposed to the 12 hours on the bus and was much more comfortable. I can't wait to ride it again.
And there you have it! My whole trip to Hiroshima. I would definitely recommend making a stop here if you like nature and history, as Hiroshima offers PLENTY of both. It is truly a beautiful city with many things to do. I wouldn't mind visiting again in the future.
Don't forget to follow me HERE on Instagram or HERE on Twitter to stay up to date with my Japan adventures.