Goal : See as much of Fuji and the Kawaguchiko area as possible in 2 1/2 days and 2 nights.
Mt. Fuji is one of the most famous mountains in the world. The tallest in Japan. Photogenic, nature surrounded, a nice retreat from the big cities around it, just beautiful, etc. etc. etc. A must see sight for any traveler coming to Japan. PERIOD. Yet, I've been living in Japan for almost two years now, and I haven't actually seen a clear Mt. Fuji. Despite finally traveling to the area, I almost kept my track record of NOT seeing Mt. Fuji. I say I, but it really is more of a we. Onjel (my great friend here in Japan) hadn't really seen Fuji either. So we. Basically failed this trip. Sort of.
DAY ONE : LET'S GO!

2017.10.07 4:00 AM start. . . Shinjuku Station by 6:00 AM. . .
Early Saturday morning, we took about a 2 and a half hour bus ride from Shinjuku Station to Kawaguchiko Station in Yamanashi. The bus tickets were round trip, 3500円 (about $30-35). I was genuinely surprised at how quick and cheap the tickets were. It was actually a pretty comfortable ride there and back.
We used a highway bus website that listed the dates and times we were looking for, about a month prior to our departure.Quick to book and easy to pay for, all online. They'll send the tickets to you. So you can print them out, or have them sent to your email to use on your smartphone/tablet. (Side note : Links to mentioned sites throughout will be down below.) We got up and left out really early since our bus left Shinjuku Station at 6:45 AM. Have no fear though, they've got later times if you're not into the early morning thing. We were just trying to beat the rush and get a head start.
We got to our destination around 9 AM-ish. Kawaguchiko Station itself is a site to see. With it's old time look and feel, as well as being surrounded by small mountains. I thought it was just plain adorable. And of course, good, clear weather be with you, there's Mt. Fuji. Unfortunately, the weather was not on our side. It was foggy. Very foggy. So dense it looked like you could almost cut it with a knife and serve it on a plate. No, actually, you could just about grab a cup of water out of the air. So, no Mt. Fuji that day. But, nonetheless, we started our adventure.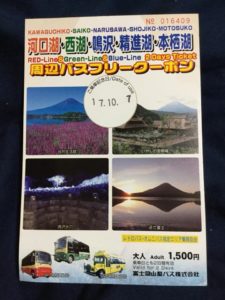 Before locking our things up in a locker for the day, we picked up some 1500円 2-day bus tickets, which get you around the 5 lakes in the area on any of the blue, red, or green bus lines. Onjel had actually found the information for this online prior to. So, we had the this plan going in to purchase these tickets. They had a little stand right outside the main entrance to the station. They'll also give you a map with your tickets. It's a really good deal if you plan on making your way all over the lakes like we did.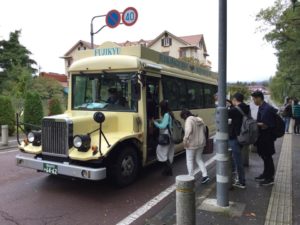 Starting at Kawaguchiko Station, for example, and going out to the Kodaki Fuji View Point could cost you about 700円?
After making our way between a handful of stops, just that first day, the ticket had already paid for itself. And we had A LOT of places to stop a long the way. Just getting on and off the bus a couple times could really rack up the yens. I would highly suggest picking up a 2 day pass, if you're planning on staying for at least 2 days. Plus with the map handy, you get bus times. They also highlight a lot of spots around the lake that are worth seeing. Places we didn't know about. So, you'll save a lot more, and see a lot more, wins all around.
We started our trip off with the Yamanashi Gem Museum. We initially decided to go that route because of the weather. It was definitely the right move. There was more to see than I had imagined, everything from quartz to diamonds! And the gift shop!!! The actual building didn't seem so big to begin with. They had a really neat display style. It really made the place look bigger from the inside and the all gems pop.
I personally don't know much about gems and jewels, so it was a nice learning experience for me. They had plenty of information posted throughout the museum. And don't worry about not being able to read Japanese either! They had just about everything translated into English. But, again. That gift shop though! I think I spent half my time in there. Surprised with how much they had to sell. Plus, the different qualities starting from $2-3 dollars (250−350円) up into the thousands! I did pick up a handful of things while we were there. I'm already ready to go back for round 2!
Now, by this point a hour or two had passed, restaurants were starting to open, so we hopped on the bus and went in search of some food. We had decided on Hoto Kura Funari after checking out a flier for it at the station. Turned out this was also a spot we had researched prior to coming to Kawaguchiko. We had forgotten though and thought it was a brand new idea after seeing the flier. It just looked good.
Okay, my bad, my GPS's bad, but I got us lost after we got off the bus… So it took wayyy longer to get there then it should have. Would have been a 10-15 minute bus ride had we known what stop it was by. (Sorry Onjel) But we finally figured out our way, after having walked all over the place. I'd like to think it turned out being worth the wait.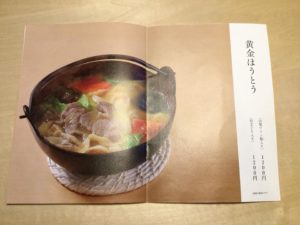 I can only start this by saying the wait staff were too-excited that we walked in. They were on us so fast. You would've thought we were somebody famous, a couple of celebrities, some dignitaries, or government officials. It was hilarious. It's a restaurant chain, maybe this spot is a newer location they've opened? They were really interested in how to reach, and advertise to foreign tourists coming to Kawaguchiko. They asked all kinds of questions, and it started with them trying to talk to us in English. And us trying to be (kinda) polite, answered in Japanese.
When I tell you they dropped that English so fast. Went full Japanese on us so quick, it was like whiplash.
So, a few awkward minutes with chatting us up, before our order came out. But, they were never rude, and the service was good. The food was good too. We both ordered a bowl, turned out we could've probably shared a bowl between the two of us. The soup was good, so many veggies in it.
The pork was a little too fatty for me personally, but I would order it again. They had a pork version of the soup and a chicken version. I'd like to go back and try the chicken version next time. The meal would've been 1200円 each but they have a discount option. If you write a review for them you can get the discount. So, of course we both wrote up a quick review and got that discount!
As we left, happy and stuffed, the guy that kept asking us all the questions gave us candy. The whole experience was hilarious and I won't be forgetting it any time soon. I highly suggest you check it out.
While sitting to eat we were able to check out the map we got with our 2-day bus tickets and make a better game plan. We decided the next stop would be Fuji Omuro Sengen Jinja. This spot is a must see if you're in the Kawaguchiko area. It's along the green bus line, #54, and pretty close to Lake Kawaguchiko.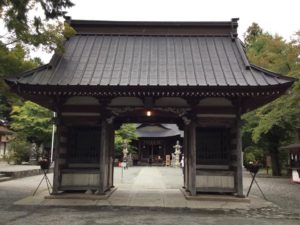 The fogginess and clouds gave the shrine a spooky atmosphere. It was a happy kind of shrine though, I believe it had something to do with marriage and babies? (Could be wrong though.) I love coming to shrines here in Japan, they're gorgeous, and there is so much to see. Made some wishes and said some prayers, and before we left I picked up a couple charms and a fortune. Hopefully they'll help make me a little luckier, and my wish will come true.
At this point you may be reading and thinking, okay, cool sites, cool food, but what about accommodations? You haven't mentioned anything about where you're staying. Are you really just winging it as you go? Is it that easy to just pop in a place and stay? Well, maybe it is easy, I don't know because that's not the route we took. We already had our room and board figured out, booked, and set to go before getting out there. The only catch was that check-in didn't start until around 4 PM? So after arriving, at about 9 AM in the morning, we had a handful of time to kill until then. So we started making our way around Kawaguchiko early, to use the weekend to the fullest extent we could. (With only 2 and a half days and 2 nights.)
We ended up going with a hostel because A) it was cheap. Really cheap. about $36/night B) it was close, and C) which we did not know until we got there (And ended up being one of the funniest in-sync moments we had the entire trip) it was right across the street from the #5 stop on the green/red line. Hostel Fujisan FBH.
Our futons were already set up, received bread tickets for each morning, and a nice view. (When it wasn't foggy and even when it was foggy still a pretty cool view.) First day and night, no Mt. Fuji in site even though we should've been able to see it from our window. All in all it was definitely a great deal. The bread tickets really came in handy for a quick bite on the run each morning. It was in a great location too, being right across the street from the bus stop. (FYI ~ It was only about a 25 minute walk from Kawaguchiko Station.) I would personally recommend Hostel Fuji if you're visiting the Kawaguchiko area.
DAY TWO : FUJI? 
It was a nice day, but still pretty foggy. Chureito Pagoda day! Pretty straightforward to get to and gorgeous! All you've go to do is take a train from Kawaguchiko Station to Shimotoshida Station. Then it's a short walk up to the pagoda.
There are two ways up to the pagoda, an easier incline and then the stairs. Stairs go right up to it but the incline is a lot easier on the knees. From the pagoda you are supposed to see Mt. Fuji, but as it was still foggy we only saw bits a pieces of the mountain.
I accidentally caught a shot of the top of Fuji on the way up to the pagoda. Didn't notice it until we came down I started looking back at the pictures I had taken.
We were seeing more and more of Fuji throughout the day but for the most part it was still being all shy and hiding from us.
It was beautiful, and on a clear day you could probably see way past Mt. Fuji, as far as Tokyo even. That's what it felt like being up there anyway. There are actually a lot of little trails that go up further past the pagoda. One even went to a cute dining area. We didn't go up much farther past though. Since we took the easy incline up, we took the stairs going down. Along the way we saw many signs of caution about the wild life in the area. Boars, snakes, monkeys, and bears (Oh my!). Didn't see even a tail of one though. Probably safer that way but a woman can be hopeful, can she not?
Next stop was the Saiko Iyashi no Sato Nemba. An old village turned open air museum, and it was gorgeous. I love architecture, especially old architecture, so this place really cheered the inner history nerd within me. It wasn't as big as I thought it would be, so we were able to check out all the buildings. There are a lot of different type of buildings, some turned into mini museums, some shops. All very traditional.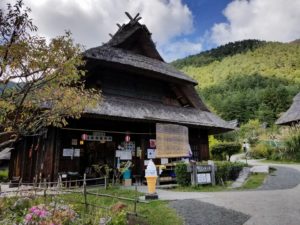 We even picked up some shaved ice and ice cream while we walked about. Outside the place there are a bunch of little stands selling all kinds of things. They'll call out to you and say hi as you walk past. The whole place was just wonderful and I enjoyed myself very much. At the station they've got some discount ticket vouchers you can pick along with fliers. But the entrance fee itself was actually pretty cheap. (Side note: This is a possible Mt. Fuji viewing spot, and I caught a tiny peak while we were here. But, it was so quick so I didn't catch it with a picture.)
Honorable mention…
We did end up going to the Wind Cave, which was neat. I think the neatest thing about it was the crazy fast temperature change. When you start walking down the stairs into the cave the temperature nosedives fast. Also, the cave ceiling is low in some parts. A lot of people weren't wearing helmets but I would highly suggest it, just in case. If Onjel hadn't been wearing a helmet she would've conked her head pretty hard on the ceiling. Plus, it's part of the experience. We actually went to the cave to kill some time. After seeing it though, I wish we would have gone to the counterpart, Ice Cave.
The verdict?
Kawaguchiko was gorgeous, despite all the fog and Fuji hiding almost the entire time. I'd go back in a heart beat. On the last day as we were leaving Fuji came out to say good bye. It was almost like Mt. Fuji was laughing at us. Taunting us. But, I'm glad we got to see it. More of it would've been nice but eh, I've got no magical, X-men-like power over weather.
All in all though, everything we saw while we were there more than made up for the lack of Mt. Fuji. If you're taking a trip to Japan or live here, I would highly suggest going to visit the area. I think it is safe to say it would be beautiful in any season. There is definitely plenty to see and do. Hopefully the weather will be on your side.
Cheers to future Fuji adventures ~ !