I'm not even sure where to start. Last week, on Tuesday, to be exact, I had the (probably) once in a lifetime chance to see Utada Hikaru live on her Laughter in the Dark tour. So please excuse me while I take a break from my regular posts to fangirl a little.
I first started listening to Utada Hikaru while I was in junior high school. I had a pen pal who lived in Hiroshima, and she sent me Utada's First Love album. It was because of this album that I learned to read hiragana, katakana, and basic kanji, so it holds a special place in my heart. Over the years, every time she released anything, I would use my spare money to import it without even a second thought. Back then, YESASIA and CD Japan were my best friends.
It was always my dream to see her live.
But then she went on hiatus.
When I came to Japan in 2016, I had two goals; see Utada live and pass the JLPT N2. The year I arrived, she came back from hiatus. I almost swear it was just for me. Then she released two albums, so I knew a tour was coming.
In Japan, for a lot of concerts, you have to buy the first press release of the album to get a code that will enter you into an early lottery to be able to purchase tickets to the show. Between the time you enter the draw and the day they announce the results, it can take more than two weeks. Which means about two weeks of waiting and wondering if you'll have the chance to go or not.
I must've used all the remaining luck I had for the year, because not only was I able to buy tickets, the randomly generated seats were close as well! We were about 25-30 seats from the front of the stage.
Ultimate Fangirl Achievement Unlocked
Her show was on Tuesday, December 7th in the Saitama Super Arena, which is like Madison Square Garden. As expected, it was a full house. I think I heard about 20,000 people, but don't quote me on that. It wouldn't be surprising though, considering it's her first tour in 12 years.
Utada sang a nice mix of old and new songs. Halfway through the set, she moved to a mini-stage in the middle of the stadium which I thought was cool. By doing that, it was as though the people sitting in the back kind of became front row for a little. She slowly turned throughout the two songs to face everyone one while she was there. Then she walked through the aisle back to the front stage.
She is absolutely adorable when she speaks. Every two songs or so she would take a break to talk to the audience. During her longer intermission, she showed a short film starring herself and Matayoshi Naoki. It was funny, but also unexpectedly deep.
Being able to hear her speak and watch the film and not really need any help was amazing. It was one of the first times I felt, from the bottom of my heart, that I was happy to learn Japanese.
I made a list of the songs she sang and will list them below. I cried through the first song, but then recovered enough to take note of what she sang.
She also allows video during her concerts, so I took a few. However, I'm keeping those just for me. Here's a snap of her though 🙂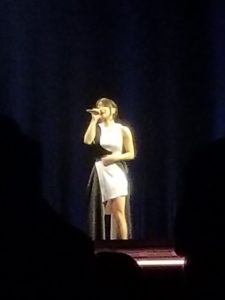 That's all. I just wanted to share my experience. It felt surreal to finally be able to go to the live show of someone I've wanted to see for so long. It also means that I had finally completed both of the goals I initially set when I came to Japan.
Guess that means it's time to think about what I want to do next.
Set List
あなた

道
Traveling

Colors

Prisoner of Love

Kiss & Cry

SAKURA ドロップス

光

友達

Too Proud

Intermission – Short Film

誓い

真夏の通り雨
花束を君に

Forevermore

First Love

初恋

Play A Love Song
Encore
俺の彼女
Automatic
Goodbye Happiness
Don't forget to follow me HERE on Instagram or HERE on Twitter to stay up to date with my adventures.