If you read my Hiroshima post, then you might know that I like to spend equal time relaxing and seeing sights when I travel alone. You will also know that I stick to public transportation and favor historical locations. This trip was no exception to that.
Before getting started, I will say that I highly recommend renting a car if you can do so as you will be able to see A LOT more because dealing with public transportation times can be a nuisance. Also, I would suggest taking advantage of seeing other islands. I'm not extremely adventurous when I'm alone, plus I had homework to do for grad school, so I stayed local in Naha.
With that said here is how I spent my solo trip to Naha, Okinawa.
Day 1 – Getting to Okinawa
For this trip, I flew to Okinawa with Jetstar. It's a direct flight between Tokyo and Naha and takes about three hours. My tickets were 21,140 yen round trip, which as of writing this is $191.11 and this included a checked bag and 500 yen to spend on board. You can get cheaper flights without checked baggage or the ability to change your trip, but I like to be safe, so I spent the extra money. My plane departed Narita Airport at 12:25 pm and arrived in Naha at 3:25 pm. The monorail is located in the airport, which is very convenient from arrival and departures.
I stayed at Okinawa Kariyushi Lch Izumizaki Kenchomae Hotel. I booked through agoda.com and it cost 26,616 yen, at time of booking was charged $186.47. The location is very convenient, being only about 15 minutes away from the airport and a three-minute walk from the start of Kokusai Doori.
I would recommend this hotel if you are a solo traveler. The price and location are reasonable, and it is very clean. The front desk staff was also very friendly. The only downside is the if you're not used to sleeping on a futon, then this won't be the place for you for more than a night or two. Other than that, I loved staying here.
This is pretty much where day one ends, as I didn't do much besides find food and try out shiiquasa sherbet from Blue Seal Ice Cream. I almost wish I never tried it, because now I'm addicted and am unable to get any easily where I live.

Day 2 – Shuri Castle, Okinawa Prefectural Museum, Kokusai Doori
For my second day, I got up early and bought a 1-day pass for the monorail for 800 yen. If you have this pass, you can use it for a slight discount at various locations like Shuri Castle and the museums.
For starters, I decided to walk around Kokusai Doori. This long road has many souvenir shops as well as places to eat. You can also find about 4 Blue Seal shops, which was essential for me to have Shiiquasa Sherbet at least once a day. There's also a Donki on this road if you need to stop there for any reason.
After walking the majority of this street, I hopped on the monorail and headed over to Shuri Castle. I was charged 660 yen for admission, and it allows access into some of the buildings which tells you more about the history of Okinawa and the castle, as well as shows some artifacts. The castle park is free and has some great views.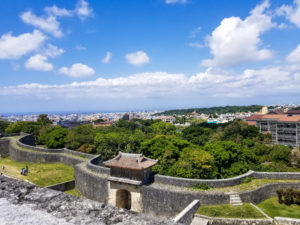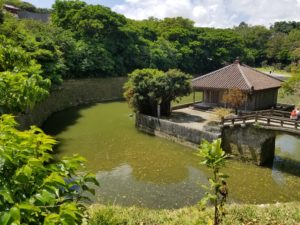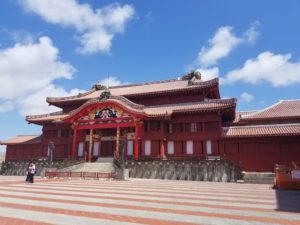 After finishing up here, I wanted to try eating at Shuri-Soba because I had heard it was delicious, but I got there just after 2 pm, which is when they closed. I settle for more sherbet instead as I made my way over to the Okinawa Prefectural Museum.
Admission here was 330 yen, and this is your standard museum. I liked learning more about Okinawa's history though so I enjoyed it. There is also an art museum in the same location, but I did not visit it.
Following this, it was time for soba and then relaxation! Okinawa soba reminded me of udon but was still very delicious.
Day 3 – Himeyuri Museum, Okinawa Prefectural Peace Memorial Museum, America Village
Today's agenda was the Himeyuri Museum and the Okinawa Prefectural Peace Memorial Museum. I bought a 1-day bus pass to get to these locations. However, this is the part where I would recommend having a car as opposed to relying on the bus system. Sometimes the buses don't come frequently, and if you miss one, you might be stuck waiting two hours for the next one. This sucks if you need more time at a location but not two hours worth of time.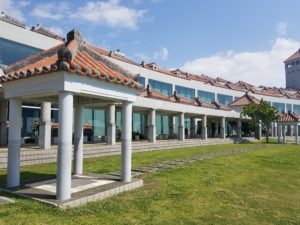 I got a late start due to hopping on the wrong bus, but I decided to do the Peace Memorial Museum first. This museum was just as heavy, if not more so than the Hiroshima Peace Memorial Museum. There was quite a bit of English signage, but of course, if you read Japanese, then you will have a more in-depth experience. Another thing worth mentioning is that the location of this museum is beautiful. According to this peace memorial park website, the area of this park is where the last battle on Okinawa took place.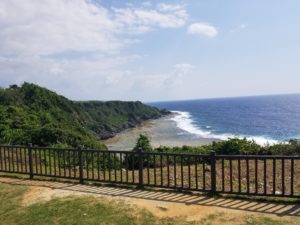 It is by the sea and is surrounded by a well managed memorial park. You can see a cemetery and other monuments. However, the main attraction is the Cornerstone of Peace monument which lists all the names of people who died in the fighting that took place on Okinawa.
Foreign forces, the Japanese military, residents…everyone is included/listed on this monument and there are even names still being added as people who lived through these times slowly pass away. I highly recommend not missing this museum if you go to Okinawa.
Once finished here, I grabbed some Blue Seal again while I waited for the bus to take me to the Himeyuri Museum. If you haven't guessed by now, I was bent on doing all my heavy museum visits in one shot. This was not an exception.
Himeyuri Museum
This museum is dedicated to the "Himeyuri" students. These were girls, aged 15 to 19, who attended two high schools on the island when they were suddenly enlisted to help as nursing aides during the war, but didn't exactly have the training to do so. They also weren't expecting things to turn out as bad as they did, because no one really knew how desperate the Japanese army was at this time. So, long story short, the girls end up having to live in caves while caring for soldiers with little supplies and close to no food. Then, as the American forces drew closer, they were all discharged to survive on their own. The majority of them died from suicide, gas attacks, crossfire, etc. It's interesting that the largest number of the girls died after they were abandoned. Up until that point, the situation was terrible, but they were somehow managing.
Anyway, this is another museum I would definitely suggest not missing.
Following this, I left, while deep in my thoughts, and headed by bus to American village. Can't be depressed all day.
American village is a collection of shops and places to eat where the buildings have a relatively western feel. For the most part, it felt pirate-y. I walked around a bit and then had some taco rice. I also took a hamburger to go from another spot for dinner since I knew I wouldn't be heading back out again.
I finished up the day with a quick trip to see the sea and then back to my home base.

Day 4 – Rest Day/Pancake Hunting
This day was my designated rest day (which I would later regret). The only thing I did was hunt for pancakes, walk around Kokusai Dori to buy souvenirs, and eat Blue Seal.
Day 5 – Pancake Hunting Pt 2/Facing my regrets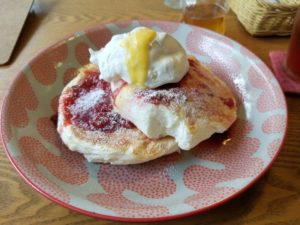 On this day I also went pancake hunting, this time at C&C Breakfast Okinawa. The line nearly wrapped around the corner, so I suggest getting here early if you want to avoid waiting too long.
Also on this day, I remembered that I wanted to visit the Tsushima Maru Museum. This museum is dedicated to the cargo ship that was carrying about 1700 school children to the mainland to escape battle that was mistakenly sunk by the US Military.
The website says that it is open on Sundays, but when I went, the physically building listed Sunday as a rest day. As I was leaving the next morning, I wouldn't have time to visit, but I intend to come back one day to visit. If this is a museum you're interested in, try to avoid going on a Sunday so you don't have regrets like me!
Day 6 – Left Naha at 11:35 am on Jetstar.
Overall, even though I didn't leave the mainland or venture too far out of Naha, I had a relaxing trip. As mentioned before, I do suggest renting a car to get the most out of your trip.
I'm looking forward to going back because I hear the other islands of Okinawa are beautiful.
If you've been to Okinawa and had some suggestions, please let me know!